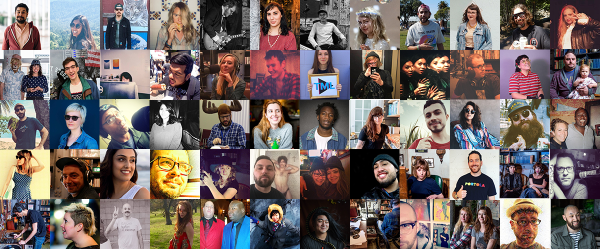 BFF.fm – Best Frequencies Forever is a community radio station, broadcasting online from the heart of San Francisco's Mission District.
BFF.fm's purpose is to celebrate the cultures that make the San Francisco Bay Area a vibrant place, through music. Our mission is to support emerging and underground artists and bring the Bay Area music scene to the world through the magic of Internet radio.
112 volunteer DJs produce 158 hours of original programming every week. That's a lot of awesome new music to discover!
Awards
Best Radio Station, SF Weekly's annual Reader's Poll, 2014, 2015, 2016, 2017, 2018
Best of the Bay, San Francisco Bay Guardian/48 Hills, 2014, 2017, 2018
Best New Internet Radio Station, SF Weekly's 2014 Best Of issue
SF's Best New Radio Station, The Bold Italic, 2013
As a 501(c)3 non-profit arts organization, BFF.fm relies on your support to keep the lights on and your favorite tunes flowing. Learn how to help.
Organizational Staff
Tech Committee
Art
Board of Directors
Amanda Guest Executive Director/General Manager, BFF.fm
Ben Ward Technical Director, BFF.fm
Tom Tierney Owner, Pops Bar
Will Craven Senior Consultant, Straubel Foundation
If you have the enthusiasm and resources to help make BFF.fm even better and are interested in serving on our Board of Directors, apply here!