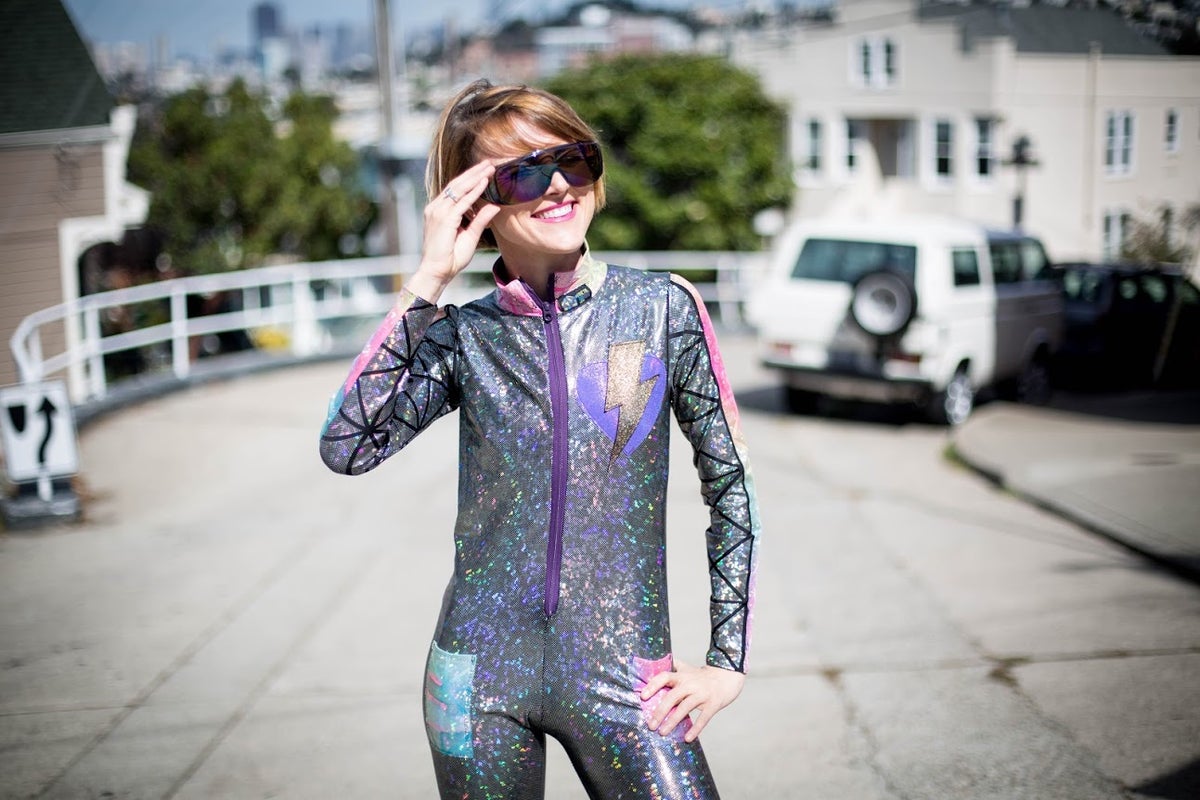 Photo by Dijon Bowden, Caro Prizm decked out in her wild rockstar jumpsuit, custom-made by Fractal FUNhouse.
Recommended episodes
When you think about rainbows, what fondly comes to mind might be the LGBTQIA community, your favorite meteorologist, dehydrated mallows in Lucky Charms cereal, Paul "Bear" Vasquez's Double Rainbow video, and one of BFF.fm's shows, Night Light Radio with Caro Prizm. The show's infrared zest is brought to you by Mz Prizm's always alacritous energy, whose premise for the show is to take us somewhere over, under, sideways, through, and within a rainbow of music in a "kaleidoscope of styles" that includes disco, electronic, funk & soul, pop, jazz, world, house, and techno.
Each episode shines a light in exciting new, and revisited recesses of musical imagination. Caro Prizm has an intuition to coalesce rays of colorful melodies that succinctly flow to deep places as far as the ear can hear, and as far as the spirit can feel in the elation of embracing the hell out of one another's prismatic possibilities. Caro pumps out surprisingly varied tunes that you either forgot about or didn't realize existed. She creates episodes with a golden heart on her sleeve, selecting songs only on the conditions that they make us feel good and celebrate the illuminating gifts of others that inspire our very own artistic endeavors. She's structured some ongoing series that you'll find in the episode archives. Some themes in rotation include "Womxn Power," which includes artists like Princess Nokia, Ruby Ibarra, and Little Dragon; "Funk & Soul," with artists like Sharon Jones & The Dap-Kings, Blood Orange, Monophonics; "Jazz," with artists like Nai Palm, BadBadNotGood, and Gabor Szabo; "Pride," with artists like Tove Styrke, Betty Who, and Ssion; "Party Jamz," with artists like Bob Moses, Voodoo, and Motor City Drum Ensemble. Also, Mz P's most recent series is a thrilling set of versatile Halloween compilations.
Although the show's mission aims to celebrate the color wheel of infinite voices, it also steers clear of too narrow a kumbaya and puppy dog tails tone. NLR addresses why we need to uplift various voices that lead us to a vast rhythmic and dance-your-heart-out dreamscape. Caro brings us back down to earth in episodes like "Dark Times Party Jamz," by acknowledging the yin and yang of reality. The episode highlights the literal and metaphorical circumstance of turbulent weather being the prerequisite to a rainbow. She reminisces upon her earliest cultural influences crossfading into socio-political narratives, namely Riot grrrl's impact on her feminist sympathies. In the same vein, she staunchly reiterates her advocacy for LGBTQIA, People of Color, and other marginalized communities' inclusivity through her radio platform. She says,
Ultimately I just want to be having fun with everybody when I'm around them. That's it, that's the state that we should exist in. So that's what music is here to remind us of- that we can just drop in any time to music, and rainbows, and good vibes...the world is made for that to happen. We were made for that to happen.
How did such a majestically cool and peaceful path unfold for this DJ? Caro Prizm's civilian name is Carolyn Nickell, who was born and raised in Whittier, California. Her name means "a song", the name given not coincidentally to her from a family of musicians. She attributes much of her early musical influences to her mother and grandmothers. Her grandmother played the ukulele, passed down to Carolyn who is an avid ukuleleist. The other grandmother, who resides in Orinda, CA, has always had a quirky habit of recording herself, cheerfully reading off randomly weird facts on her answering machine's voicemail… which Carolyn ponders if this may have subconsciously inspired her to want to share interesting facts over the airwaves, too...
During college, she majored in Psychology, and was always passionately drawn to art. She started going to music festivals, which is when Mz Prizm began to evolve. She found a pair of disposable paper rainbow glasses at one of these festivals, which served as an omen to her trajectory. After college, Caro moved to San Francisco, and went on to recreate the shades out of sturdy plastic. Since 2009, she has experienced the ups and downs of managing her own art / fashion line, PrizmEyez. Through a lot of work, friends' and customers' support, she was able to quit her corporate banking job and fully support herself for about a year and a half from rainbows alone. She used some of her early profit toward spending a few hundred bucks on her first Burning Man ticket in 2011. During this visit, she fell in love with deep house, particularly through one magical sunrise when she connected on the Disco Knights dance floor with Seth Troxler, Lee Foss, Jamie Jones, J. Phlip, and more house legends, where she also gifted these artists with her original handmade PrizmEyez.
The steps along the way of managing her own art and fashion line range from collaborating with artists, making products overseas, to dreaming up and building her Prizm Space Rainbow Room art installation. Its debut took place at How Weird Street Faire in 2014, and since has appeared in several spaces, from Burning Man, to a steamboat floating here in the Bay, to its radio adaption on BFF.fm. She still freelances, but has accepted that she is an artist at heart, and hopes it can all come together. The business model of PrizmEyez breathed a mission to capture her love of rainbows and how sharing it with others can open a world of inspiration. This catalyzed her mission as a DJ, which she reminds us in each episode her belief that "We are all Prizms, and we are always taking in, and shining back out, through expression. Creativity helps people discover and reflect their own rainbow."
Carolyn's professional experience also extends to community management marketing in nonprofits and museums, which is why on top of hosting NLR, she is an invaluable member of the BFF.fm crew as the station's Fundraising Coordinator.
Mz Prizm's endearing, vivacious energy while hosting Night Light Radio is every bit present off the microphone, as DJ Mr. Darcy found while sitting down with her to chat about art, rainbows, and inspiration.
---
When did you become a DJ (on/off air), when did you become a DJ at Bff.fm?
Mz P: I became a DJ here at BFF.fm on January 20, 2018. But, back in college was where I really started exploring the visual and conceptual side of what evolved into Mz Prizm and Night Light Radio. I started going to music festivals and began to see the common angles between music and visual art. Dropping into all those different vibes at a music festival was an experience that sparked my desire to have a radio show of different genres -- I wanted to include ALL kinds of music! I almost approach my radio show like it's a fantasy stage set.
I found out about BFF.fm through my friend, Eric, known as the Rubberband Man, a groovy funk & soul show that blows your mind so high you can't come down. Maybe he'll visit us on Night Light Radio someday, if we're ready to get real funky. I also have college friends on The Green Room, others who collaborate on Make It Funky, and more.
What is it about rainbows that gets you going?
Mz P: Their quality of being prismatic, sparkling, and the fact that they are secretly everywhere, all the time. Music is similar to light, in its unveiling of beauty— it always has the opportunity to reveal it. Also, rainbows just delight everyone no matter what. Especially kids. When I used to teach at a college campus nursery school, I was reminded how every kid will stop what they're doing on a playground to look at a rainbow in the sky, forget what they're fighting over, and just smile.
Who are your favorite artists of all time and current? Visual and in music?
Mz P: I'm greatly influenced by visual artists, Yayoi Kusama, Bridget Riley, and James Turrell. Local artists include Colin Bowring (aka Photon Wizard), and Dijon Bowden of Indigo Keys and Souls of Society.
For music, my favorites of all time are Lady Gaga, Madonna, Beyonce, M.I.A...as a kid especially I loved the Spice Girls, Beach Boys, Aretha Franklin, and gotta mention Weird Al, all kinds of musicians.
I used to discover new tunes through very 90s methods like subscribing to "CD of the Month" clubs, listening to CDs and radio with friends, and MTV. Now I discover music through friends' recommendations, festival lineups, articles in print and online, other radio shows on BFF.fm, and tons of Spotify deep-diving, including Madame Gandhi's 'Future Is Female' playlist that she updates weekly.
Currently my favorite musicians include AJ The One, Miguel Campbell, Foxtrails, Polo & Pan, and Persona Non Lisa.
Outside of Dj life, what do you enjoy doing? What are your obsessions?
Mz P: Walking, playing ukulele, Instagramming, painting polka dots on canvas in undulating black gradients. I really like how the structure of dots can fool your eyes. Also, I love transforming an errand into a faraway place, from a chore into an adventure, by seeing if I can find stuff nearby to explore.... I will walk there and perhaps wander somewhere else on the way back through the city. I thrive on experiencing the newness that readily, visually permeates everywhere. It's also fun to observe the friendliness of people outside on the weekends in San Francisco.
Any cool shows, films or books you've checked out recently?
Mz P: I love going to museums and art galleries. I've recently gotten into the work of social entrepreneur, Radha Agrawal, who is the author of Belong and creator of the project "Daybreaker—" a healthy early morning dance party series that has had a global impact. Another great book is called Your Story Is Your Power: Free Your Feminine Voice by Susie Herrick and Elle Luna. I've been inspired by the #TheHundredDayProject, which helped influence me to get my own art studio. And also Roald Dahl's collected short stories for adults.
For folks looking for podcast recommendations, my favorite podcasters are Tim Ferris and Dan Savage.
Have any particularly odd idiosyncrasies?
Mz P: I'm a morning person, but I host a really late night radio show. Also I'm double jointed, I'm really into crafts, especially anything shiny. I used to be self-conscious about eccentric self expression, for instance in the way I dress. I would constantly question myself "Is this too much?" But I'm at a place where I'm ready to own the sparkles. Even when I'm not feelin' it, if I put on a glittery outfit, the sparkles can help— try it out, they can nudge you to catch up and match their vibe.
What are your pet peeves?
Mz P: Loud motorcycles.
What do you find most valuable about BFF.fm, personally and for the community?
Mz P: When my business took a dive after former customers and factories overseas copied my product, tough life experiences fogged up my way. I had to consult to make money. I thought I'd never get it back together to truly share that rainbow vibe brightly out again. So I'm very grateful and surprised to be here. Through love, creativity, community and music, I uncovered my rainbow again. I realized that I could still create and share with authentic joy, and this time, through music. But the difference is that I could reach anyone who wants to connect for free, without needing to sell a plastic item.
Also I used to have an art studio, which was unfortunately demolished. Over time, after losing this creative space I was inspired to make the most of every week I had available by creating a new artistic space on my radio show at BFF.fm.
The process of making an episode requires a commitment to patience. I no long am able to skip tracks hastily— I have to use a long format, which at first was unusual, but personally it's been a rewarding challenge to have to flow along with every second of entire songs over the course of at least a couple hours. I didn't know how Night Light Radio was going to evolve. I started out with eclectic mixes, and became inspired to pick songs that flow well together. And over time I've gained more confidence to go for deeper vibes.
On a community level, creative opportunities for adults are so few and far between. It's rare to find heartfelt, artistic and unedited connections, which is what makes this station a precious space and extremely powerful for everyone involved. Mz Prizm is back to help make an impact with fundraising here at BFF.fm, to help make the station really strong so it sticks around and my show, and all our shows, can keep going, amplifying these good vibes! I think BFF.fm as a whole and all our individual shows, reflect the concept that life is all about, amplifying good vibes.
---
On the mic, Caro vocalizes a humbling, poetic cadence as well as opening our musical landscape to marvelously rad songs that are fluidly ordered. Her radio persona provides reassurance, a comforting and powerful message that we're at home together through music and other mediums of artistic expression.
While Skittles invites us to taste the rainbow, we'd like to invite you to hear the rainbow (and do your blood sugar level as well as your ears a favor), by listening to Night Light Radio. This show ventures through, and beyond the ROY G BIV shades of sonic possibilities. Tune in each week to check out the latest positive vibes and illuminating energy Caro Prizm refracts into sound on Night Light Radio on Saturday's transition into Sunday from 2-4 am.
Where else can you find Caro Prizm?